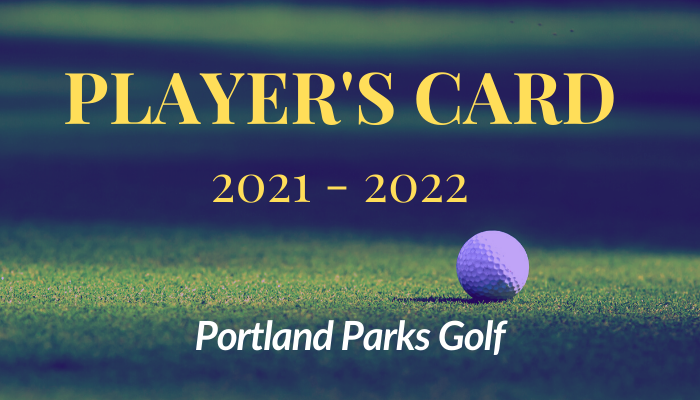 SOLD OUT!!!
Please call another Portland Parks Golf facility to check availability
(cards are sold out at Colwood)
How to Get Your Card:
1. Cards will be available for purchase through our online store beginning Monday, May 10th, 2021.
2. After purchasing your card through our online store, please allow 48 hours for processing.
3. Pick up your 2021-2022 PDX Player's Card at the Colwood Golf Shop (cards will NOT be mailed). ID required for pick up.

These cards are valid at all Portland Public Golf facilities between June 1, 2021 and May 31, 2022.
March 16 - October 31:
Play 18 Holes for $20 | 9 Holes for $10
- Discounted Rates* ($10 for 18 Holes, $5 for 9 Holes):
Mon-Thurs between 12 PM - 3 PM | Sat-Sun after 3 PM
November 1- March 15:
Play 18 Holes for $10 | 9 Holes for $5
- Discounted Rates* ($5 for 9 or 18 holes): Any day after 12pm
Use at Colwood Golf Center:
$5.00 for 9 holes (Any Day, Any Time)
- FREE Small Bucket of Range Balls with Green Fee
*Please Note: Discounted Rates are not valid on Holidays.
What must I do as a Portland Parks Golf Players Card holder?
- Cardholder must show valid photo ID to use their Players Card.
- Cardholder cannot share their card with anyone else.
- Card is non-transferable (after card pick up).
- Improper use of the card can result in revocation.